How Do I Test My Computer?
Memory Testing.

As a computer professional or an information technologist, there are times when you are approached by family or friends who want to bend your ear and ask you, "How do I test my computer?" You know that they are stumped by some issue within their system that seems to be a malady, and they want to know how you, the computer professional, approaches it.   Another situation is when your boss comes to you with his laptop and gives you a short time to diagnose and fix his machine. You sit down with the laptop and think "How do I test this computer?"
This series explores the actual testing of the core components through diagnostics.   The focus of the article will look at testing memory, processor, hard/SSD drives or another key component of the computer.
This article looks into "How do I test memory in my computer"
Detecting Faulty Memory
If you are experiencing random computer restarts or unexplained Blue Screens of Death, that the ultimate piece of I.T. troubleshooting advice "have you tried rebooting your PC?" doesn't fix, then it might be time to test your memory.
A relatively cheap upgrade for better performance of any PC is to increase the system RAM. Memory problems are not as common as a hard drive failure for example as they do not have moving parts. However, because of this, many memory failures are not detected. The symptoms that you may have Faulty memory are:
The computer runs fine when it is first turned on however the longer it is used the slower it becomes.
The dreaded blue screen of death for no apparent reason.
Random reboots, freezes and restarts (sometimes accompanied by strange beeping) when you are performing normal tasks.
Distorted 3d graphics when playing games.
Corruption of files that you are in regular use.
Inability to install new programs or software.
Computer memory can be damaged in a number of ways:
Power surges can damage most computer components, including memory. Make sure you are using a surge protector.
Electrostatic discharge. Before handling any computer parts ground yourself by touching a piece of grounded metal to discharge static electricity.
Incorrectly overclocking a PC can make it run hot the excessive heat causing damage.
A faulty memory module that passed through quality control and worsened over time.
Memory that is susceptible to excess system noise
DDR3 and DDR4 memory modules that are experiencing the "Row Hammer" effect.
A memory module may become unseated during transit or delivery of a PC.
Diagnosing the Problem
It's true that there are a number of hardware issues, such as a failing power supply, hard drive problems, excessive heat or even dust could cause the above symptoms. However it is good idea to check the RAM first if these problems tend to happen when you're using a memory-intensive application or game.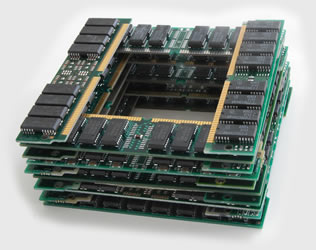 Whilst a quick visual inspection will likely identify a memory module that has become unseated, the only real way to identify and eliminate the problem is to run a computer diagnostic program (OK the alternative is to keep swapping out and moving memory modules around until the symptoms go away, however this isn't particularly efficient or reassuring the problem has been found and dealt with).
A computer diagnostic such as self-booting Pc-Check is the ideal choice for testing computer memory as it tests outside of the installed operating system and will test each RAM module identifying the one that is faulty. Pc-Check is able to thoroughly test the RAM as there are no loaded memory managers or Windows operating system using the system resources.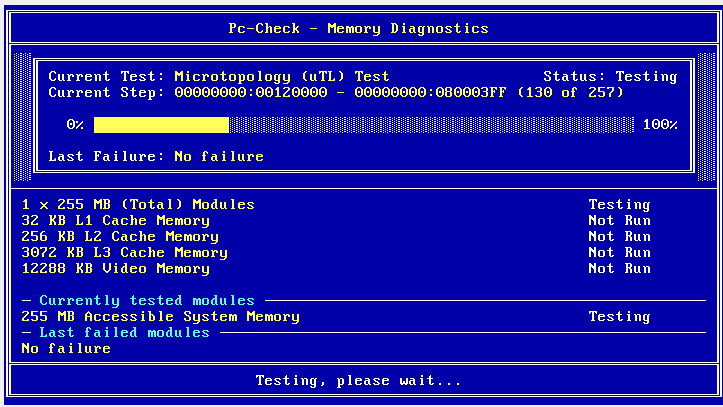 Running every memory test in Pc-Check could take a while depending on how much RAM you have, we recommend that you start with the Microtopology Tests before moving on to the others. This provides an exceptionally rigorous method of testing PC memory, and produces a highly reliable diagnostic report. It is a time-based test using a special "Microtopological Locality" algorithm, and is exceptionally sensitive to issues of noise and timing in the memory system as a whole. It is best to set the test to run at least 3 times to help find any intermittent failures. Also running the System Stress Test will generate a lot of heat and put the core components under a heavy load, identify problems that occur when the system is running intensive applications.
Thank you for reading "How do I test my Computer". Please feel free to leave feedback or questions in the comments below.