How Do I Test My Computer?
Hard Drive Testing.
Computer professionals see every situation from the mundane to the bizarre. From a recovery technician working on a machine that was in a fire to assess insurance claims, to a retail specialist who needs diagnostics to analyse a consumer machine, each has to ask "how do I test this computer?" For each component that is in our modern day convenience, there can be potential issues and problems where a good suite of diagnostics can assist in testing the intricacies of computer hardware.
This series explores the actual testing of the core components through diagnostics. The focus of the articles will look at testing memory, processor, hard drive and other key components of the computer.
This article looks into "How do I test the hard drive in my computer".
Did you Read that right?
One of the key components to the operation of your computer is the software that runs your computer and the underlying hard drive that it is stored on.  Hard drives vary from older IDE units to super-fast SSD drives and are reaching upwards of one terabyte. These devices are affected by physical damage as well as rogue software such as worms and viruses. Knowing that there is nothing wrong with the drive physically can be a first step to addressing a software issue.
Faulty drives symptoms may include:
Clicking noise in the Case of an IDE drive
Missing files
Slow boot times
Long save times
No disk found during booting.
Long loading times for a simple file, such as a Word document.
Hard drives receive damage in the following ways.
Age: the older the machine, the more likely the mechanical properties will fail
Shock: accidentally dropping a machine can adversely affect the hard drive even if other components are unscathed.
Temperature: extreme temperatures can adversely affect the interface connecting the hard drive to the computer.
Diagnosing the Problem
It's true that there are a number of hardware issues, such as a failing power supply, memory problems, failing main board or even dust could cause the issues associated with the hard drive. However a good idea is to check the physical connections to ensure proper connection has not been interrupted before commencing with hard drive testing.  A SATA cable that has been pulled out accidentally while installing other hardware could easily be the culprit.  If physical issues don't appear to be the cause then using a self-booting diagnostic such as Pc-Check 8.05 on a USB thumb drive or CD will allow you to perform some serious hard drive testing to help diagnose the issue of the "health" – the stability – of the hard drive.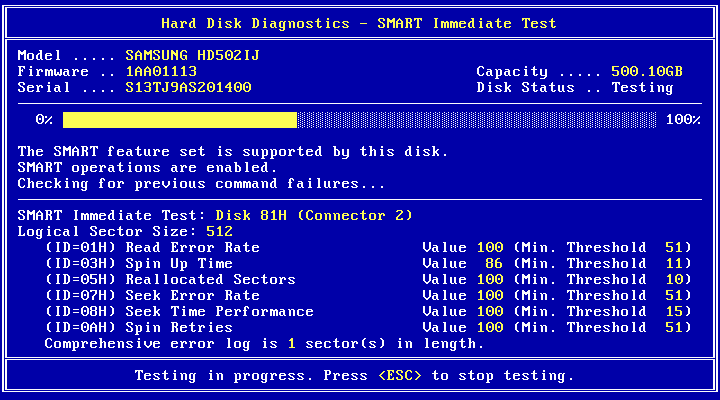 We recommend that you perform the Immediate SMART test in Pc-Check to understand if the disk has errors before performing any further hard drive tests. SMART (Self-Monitoring, Analysis and Reporting Technology) is a monitoring system for computer media to detect and report on various indicators of hard drive reliability. This can be used to alert users to the impending failure of the disk.
The hard drive testing in Pc-Check is very thorough and can test every sector of your hard drive. Being able to test the mechanism of the hard drive with the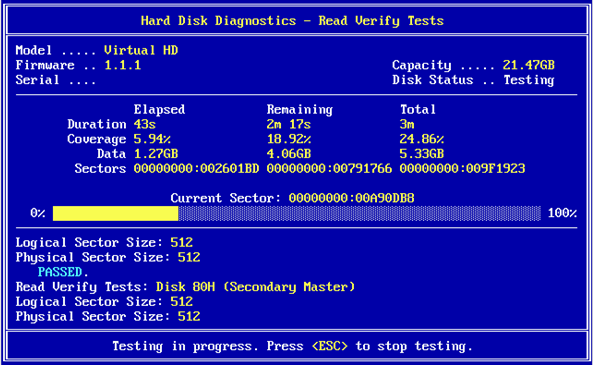 mechanical test in Pc-Check or being able to read and verify  the data from the hard drive such as Pc-Check's read-verify test can go a long way to make sure the physical health of the hard drive is good.
As with any data storage, a good backup should always be done to keep your data safe.  If you detect the possibility of hard drive issues we recommend backing up your data to some external format so that if you have hard drive issues, you are able to continue working with no loss of data.
Thank you for reading "How do I test this computer – Hard Drive Testing".  Please feel free to leave feedback or questions in the comments section below.