Finding Invisible Issues With Diagnostic Software
Eurosoft diagnostic solutions are very powerful, but sometimes there are issues that even diagnostics can't see.
Systems That Won't Boot
There are many instances in which a system is so badly off that it won't even power up. Sometimes a unit may power up, but fails to boot or just seems to hang there with no video. Since we are utilizing system resources in order to run diagnostic software, a certain amount of system functionality is required; crucially, the system needs power and is required to boot in order to execute diagnostic software.
Water Damage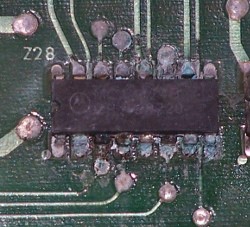 Sometimes, at least for a period of time, a unit may seem to function after exposure to liquid or even full inundation. Computers may seem to function just fine once they are dried off but unfortunately the When water comes in contact with the metals on electronic componentry, it leaves behind salt and other particles that form an atmospheric oxidation called verdigris. This alters the resistance and conductance of the metals causing too little or too much electrical flow, which in turn causes damage to the components. Damage is invariably done in these cases.
Bulging ICs and Capacitors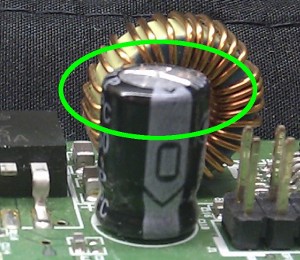 Sometimes integrated circuit chips and capacitors can overheat, causing the component to fail with a puff of smoke and a distinctive odour. Usually when this occurs the unit will exhibit faulty behaviour or even fail to power up after the flame out. But there are cases in which the initial damage from an overheating causes the IC or capacitor to swell or bulge. When this happens, the component may continue to function as normal, making the issue invisible to software diagnostics. Issues like these may be detectable with an oscilloscope, which can measure minute oscillations in voltage and current, but may not be detectable to software which is relies on the inputs and outputs of the components.
Additionally, diagnostic software tests major components such as hard drives, motherboards, and memory modules. Diagnostic software is not designed or is capable of testing individual ICs, capacitors, transistors, resisters, etc. These are effectively tested individually with multi-meters and oscilloscopes.
Finding These Issues with Extended Stress Testing
Although the issues described above are largely undetectable with diagnostic software, there are exceptions to these cases in which the right testing approach can find some of these faulty components. In cases in which component damage is caused by overheating, ESD, exposure to liquid, or even poor manufacturing, these can often be detected with an extended system stress test.
Running extended stress testing for longer durations, such as 8, 24, or even 48 hours can induce failures in these types of faulty components because the Eurosoft stress tests are checking hardware during extended periods of elevated heat and stress.
Part of understanding the power of a diagnostic tool is knowing its limitations.
Eurosoft diagnostics serve as a vital and integral part of your testing capabilities, providing powerful tools for use in conjunction with your technical skills and judgement.