Windows® 10 Anniversary Update Released.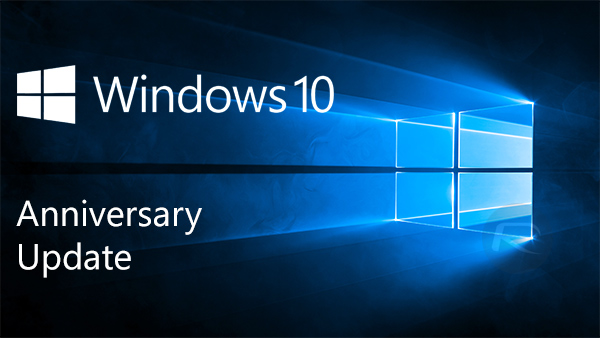 Microsoft state there are now over 350 million devices now running Windows 10, and they have just started to roll out the Anniversary Update to newer PCs automatically through Windows Updates. However if automatic updates have been turned off or don't want to wait, it is possible to perform the update manually by following these steps from Microsoft.
Go to Settings > Updates & Security > Windows Update
In Windows Update click Check for Updates
Listed as Feature update to Windows 10, version 1607. Click update and the update will begin downloading and installing.
More information can be found here
The Anniversary update includes lots of new features some of which are listed below:
Edge now includes 3rd party browser extensions. Other enhancements include pin tabs in the browser, paste-and-go option for the address bar, easily accessible history menu, drag-and-drop folders to cloud storage services, improved organization of bookmarks and favourites and in-progress download reminders when the browser is closed.
Access Cortana from the lock screen. Greater access to the Office, Outlook, and Calendar apps and also closer ties to Windows 10 Mobile phones and both Android and iPhones with the Cortana app installed. However it is no longer possible to disable Cortana completely.
Start menu Changes. All installed apps are now displayed underneath the most-used and recently added. Various power and settings options have been moved to a new left-hand rail.
Connect app. Wireless connection of a phone to a PC using Windows 10 Mobile's Continuum feature.
Windows Hello Support for apps and websites. Sign in to web sites and apps using facial recognition, and iris scan or fingerprint when browsing in Edge.
A Dark Desktop theme, for those that find the existing themes too bright.
Windows Ink for use with an active stylus
An Activation Troubleshooter.
Videos explaining the new features can be found here
Pc-Check Windows, Eurosoft's Windows-based diagnostic solution, is ready for the new Windows 10 update. Users and service providers can reliably test PCs in Windows 10 with over 100 unique different diagnostics, plus countless unrestricted scripts and multiple-component testing, giving you the greatest testing coverage available.
Eurosoft users operating with Pc-Check Windows version 3.00 can test Windows 10 machines and also continue to test in older versions of Windows back to Windows XP SP2. If you are running an older version of QA+Win you will still be able to test Windows 8.1 and older to Windows XP SP2, but will not be able to test the latest Windows 10 machines. If you need to test Windows 10 machines, verify that you are running the latest version of Pc-Check Windows. If you are not contact Eurosoft today for an upgrade.
---
Written by Kristian Harris, Eurosoft (UK) Ltd.