Eurosoft (UK) Ltd is very excited to announce its 35 year anniversary this April! 
Not so bad, and too good to be true on most days, Eurosoft saw the start of the PC industry and moved with the times, focusing on industry and customer needs.
Developing and deploying (occasionally decoying), it's been a fantastic journey, one filled with steady business success.
Thank you to our many customers and partners!
Not to be forgotten moments…
Accomplishments include the commercial launch of Pc-Check way back in 1986 – the longest running, and still current diagnostic in the world.
Several companies have OEM'd the Eurosoft products over the years including Central Point Software for their family of PC Tools in 1993, and TouchStone WinCheckIt in 1996, and V-Communications in FixIt Utilities since 2003.  SystemSoft took our BIOS in 1993 (who later became a part of Insyde Software, we hear).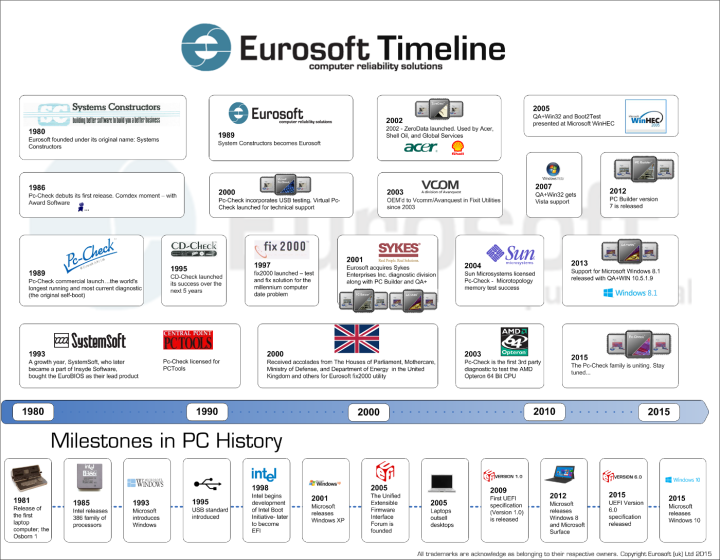 Year 2000 brought accolades from The Houses of Parliament in the United Kingdom and others for Eurosoft fix2000 utility.
2001 Eurosoft relaunches PC Builder and QA+Win.
2005 Boot2Test first in the market with combined testing using Windows and EuroDOS auto-booting. 2012 Eurosoft makes great strides with one of the worlds' largest manufacturers.
The Stories
Theme parks use Pc-Check to verify hardware on new attractions. Imagine that…
Secret weapon vehicle "…it could level an entire town", where apparently Pc-Check was on-board to keep the systems running.
Lawrence Livermore Laboratory keeps focused with the Eurosoft diagnostics, of course!
Bundled with blood analysers, bundled with the geeks of the world, bundled with boxes of Sun.
Eurosoft diagnostics like the Pc-Check family, find hardware issues fast.
Here's your opportunity to compare…
Invitation to rant and rave!
Please feel free to contribute your personal testing views, ideas and stories into the Euosoft BlogIt Open-Floor.