End of Windows 7 Looming
If you're still a Windows 7 user, then the deadline is looming: Windows 7 support officially ends on January 14, 2020. That's less than a week to upgrade to Windows 10.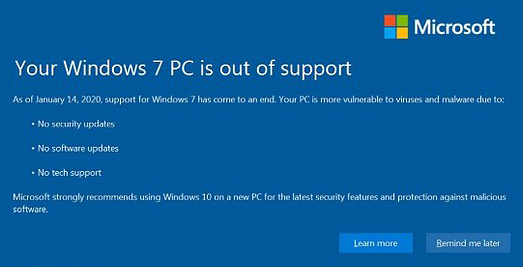 What's the problem? Well, if you are haven't already upgraded, PCs still running Windows 7 will no longer receive Microsoft updates. Importantly, this includes security updates when new threats are discovered.
Don't panic. You are not alone. It is estimated that at the end of January 2020, approximately 27.8% of PCs will still have Windows 7 installed. Or put another way, that's around 417,000,000 PCs.
It's not all "doom and gloom" — fortunately, there are several options available to you, including doing nothing, although we really wouldn't recommend this path.
Upgrade the operating system to Windows 10
Buy a new computer
For businesses, Microsoft will be offering an Extended Security Update program, purchased on a per PC basis.
Upgrading to Windows 10
Yes, there is still time to upgrade your PC or the PCs you are responsible for. The good news? Those computers running Windows 7 now, will probably be ok running Windows 10.
Getting ready to upgrade the operating system, we recommend you perform a before and after review as follows:
Verify that the computer hardware is functioning correctly and meets the specification required.
Perform a hardware audit and confirm that components such as the hard drive, memory and CPU are in good working order before you start upgrading to Windows 10.
Windows 10 minimum system requirements:
CPU: 1GHz or faster
RAM: 1GB for 32-bit Windows or 2GB for 64-bit Windows
Hard Disk: 32GB or larger
Graphics Card: DirectX 9-compatible or newer with a WDDM 1.0 driver
Apart from needing more drive space, these are basically the same as the requirements needed by Windows 7. Please note that these are minimum requirements, so if the target system has this hardware, it would probably be best to upgrade some of the hardware components individually.
Determine what applications are installed, and are they compatible. Do you have access to the original installation media if it is required? The upgrade leaves applications and most of your system settings intact, but there is no guarantee your applications will continue to function after the upgrade. Therefore, it is critically important to take an application inventory and do some research to find out if any of your applications experience issues running on Windows 10
Perform a backup. Although applications and settings should be left intact, it's wise to back up everything you wouldn't want to lose, just in case you do experience a compatibility, hardware or software issue.
After upgrading the operating system, perform a final hardware test to check that all components are still working correctly. If a system failure occurs after upgrading, there will be those who may suspect that the operating system is the culprit. Testing with diagnostics will assist in determining issues.
Additional Recommendations
The best way to inventory the components and confirm that a PC is working correctly – before and after upgrading – is to use a diagnostic solution such as Pc-Check UEFI or Pc-Check Windows. We recommend, at a minimum, performing tests for hard drives, memory and stress tests to determine that the computer is stable.
Pc-Check® UEFI is a pre-booting diagnostic solution: it tests PCs outside any installed operating system, direct to the UEFI hardware. This eliminates interference from viruses, malware, and faulty device drivers, allowing you to make a solid diagnosis of system failures. Additionally Pc-Check UEFI includes the original Pc-Check enabling the testing of older non-UEFI based legacy PCs.
Pc-Check® Windows® has a testing advantage with Windows-based computers. Components are reliably validated in the environment in which they are used. Pc-Check Windows allows you to test devices that require Windows based drivers to function such as webcams, graphics accelerators, and wireless network interfaces. Pc-Check Windows can also reliably test RAIDs, sensors and laptop batteries.
The Pc-Check® Diagnostic Suite is the best and most reliable way to determine if system failure is due to hardware malfunction, or a software/operating system issue.